Latest Publications from Regina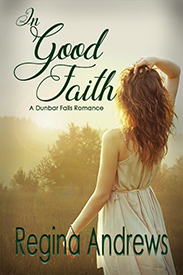 In Good Faith
Orphaned at a young age, Haley Hawthorne grew up under the care of her beloved Uncle Nelson in the pastoral town of Dunbar Falls. After college, instead of working with her uncle at his air-conditioning company, she follows her heart to glamorous Manhattan to become art director at a greeting card company.
But when Aaron Carrier, her old friend and Uncle Nelson's plant supervisor, pays a visit to her office, his devastating news turns her whole world upside down. Haley's professional future is at a crossroad and she can't get Carrier out of her mind. Faced with this upheaval, will Haley choose the path God has set out for her? And what part in her future will Carrier play?
About

Award-winning author Regina Andrews, a resident of Providence, RI, grew up in the nearby seaside village of Barrington. After graduating from Providence College she attended the University of Delaware, eventually earning her master's Degree in American Civilization from Brown University. The author of numerous works, Regina is currently working on the Sterling Lakes Series. In November 2010, Destiny's Designs won the AKW Books 2010 eBook of the Year award for Fiction. Her hobbies include travel, museums, theater, reading, music singing and gardening.
Regina is involved in numerous community organizations, and is a radio host for In-Sight, an association for the visually impaired. She and her husband share their home with a semi-feral cat named Queen Tiana, whom they rescued from a shelter.