Latest Publications from Regina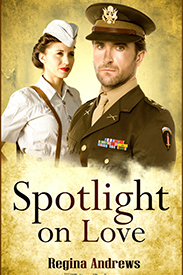 Spotlight on Love
Ever-dutiful, Nurse Helen Middleton is a successful Emergency Room Supervisor at Rhode Island Hospital in December, 1941. To help her family through tough economic times, she has sacrificed her dreams of a singing career for steadier employment.
Things change when she meets William 'Red' Williamson, a dynamic and compelling man she finds irresistible. As they to get to know each other, Helen considers following her musical dreams and a new world of romance and song seems to be opening up to her.
Then, the horrors of Pearl Harbor on December 7, 1941 change the world and throw Red and Helen into the danger and chaos of wartime. Will Helen's dreams be shattered by World War II or will the power of love triumph over all the obstacles in their way? » Buy Now
About

Award-winning author Regina Andrews, a resident of Providence, RI, grew up in the nearby seaside village of Barrington. After graduating from Providence College she attended the University of Delaware, eventually earning her master's Degree in American Civilization from Brown University. The author of numerous works, Regina is currently working on the Sterling Lakes Series. In November 2010, Destiny's Designs won the AKW Books 2010 eBook of the Year award for Fiction. Her hobbies include travel, museums, theater, reading, music singing and gardening.
Regina is involved in numerous community organizations, and is a radio host for In-Sight, an association for the visually impaired. She and her husband share their home with a semi-feral cat named Queen Tiana, whom they rescued from a shelter.